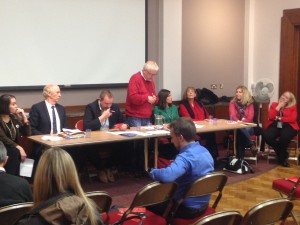 Labour CND held a successful fringe meeting at the Scottish Labour Party conference in Perth. The meeting took place in the Perth Art Gallery just hours after delegates from both Trade Unions and CLPs voted to put Trident on the conference agenda. Arthur West, Chair of Scottish CND, chaired the meeting.
The first speaker was Neil Findlay MSP, who was involved in the leadership election for Scottish Labour last year. Neil used his contribution to call for the widest possible coalition against Trident to be built. He noted that while the movement within the party appeared to be away from Trident, it is vital that concerns around jobs are addressed.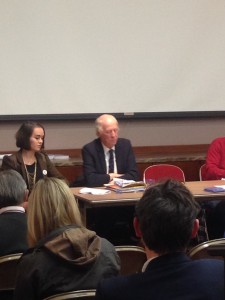 The next speaker was Malcolm Chisholm MSP, who has been a long-standing opponent of Trident. Malcolm said that it is his firm view that there has never been a better chance to build a wide-ranging coalition against Trident. He said that it isn't a left-wing issue, citing former Conservative Defence Secretary Michael Portillo and Chair of the Foreign Affairs Select Committee Crispin Blunt. Malcolm finished by echoing Neil Findlay's call for jobs issue to be addressed, but stated clearly "Trident is not a good job creation plan".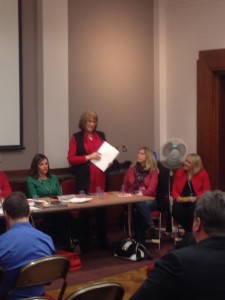 Elaine Smith MSP started her remarks by paying tribute to the late Alan MacKinnon, who put so much work into Jeremy Corbyn's plan for defence diversification. Elaine said that it's her view that many people in the Labour Party are opposed to nuclear weapons but differ on the way we reach the goal. It is the duty of those who believe in a nuclear weapon free UK to make that case within the party, she said. Elaine ended her contribution by calling for those who support nuclear weapons to say who it is deterring, where they should be aimed and under what circumstances they should be fired. Not passing the motion before conference would send Scottish Labour candidates "naked into the 2016 election", she said.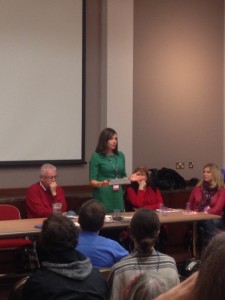 Cara Hilton MSP recalled her first speech at Scottish Labour conference, which was also against Trident. She said that Scottish Labour is now attracting people who haven't been involved in politics for many years. She said that while millions of people are relying on foodbanks it would be unthinkable that we are writing a blank cheque for nuclear weapons which we could never use, citing new estimates that Trident replacement might actually cost as much as £167 billion. Cara ended her contribution by calling on Britain to set an example in the world by rejecting immoral nuclear weapons.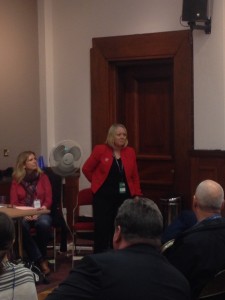 Cathy Jamieson, MP for Kilmarnock and Loudoun from 2010-2015 started her remarks by saying that it wasn't always easy to be a member of CND and on the Labour front bench. Cathy served in many front bench positions, including in the shadow Treasury team. She said that she is as committed to non-replacement of Trident as ever. Cathy called for a reinvigorated and re-energised Scottish Labour CND to emerge from the weekend. This suggestion gained a large amount of support from the audience.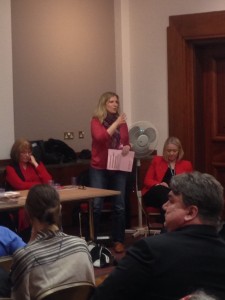 The next speaker was Lesley Brennan, who stood in the 2015 General Election in Dundee East. Lesley started by saying how satisfying it was that Scottish Labour would debate Trident, as she previously spoke at the CND fringe meeting at the 2014 Labour conference in Manchester. She said that she was looking forward to Scottish Labour taking the lead in voting to move towards a future without nuclear weapons. Lesley finished by saying that, while we have to acknowledge the fact that Trident does employ people with high skills and genuine concerns about the future, for the money being spent we should be creating many more jobs.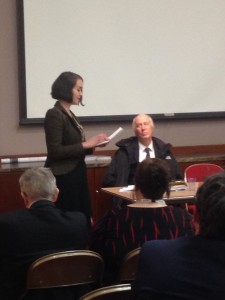 The final speaker of the evening was April Cumming, a Labour Party researcher and activist who recently addressed one of Jeremy Corbyn's leadership rallies in Scotland. April started her comments by paying tribute to Malcolm Chisholm, who she decsribed as a "politician of highest principle". April called on the entire Labour movement to unite to "raise our voices to protect the high-skilled jobs involved in Trident and lead the transition to the hi-tech jobs of the future. In decribing nuclear weapons as 'window dressing' April said that Labour must "share the desire to stand as a moral compass with leaders of the past including Keir Hardie".