Labour CND supporters were in evidence at the protest over Mohammad bin Salman's state visit on 7 March, including Hannah Kemp-Welch pictured here. Hundreds gathered at Downing Street to tell Prime Minister Theresa May 'Crown Prince Not Welcome'.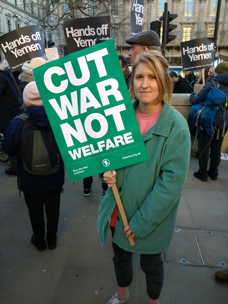 Shadow International Development Secretary Kate Osamor spoke at the rally, as did Labour MPs Andy Slaughter, Chris Williamson, and others. The Green Party was there too, represented by Deputy Leader Amelia Womack, and Sinn Fein by Joe Dwyer. Earlier in the day Jeremy Corbyn made a strong statement in parliament denouncing Saudi's abysmal human rights record.
The arms that Britain sells to Saudi Arabia have been used in its war on Yemen, a war that's sparked what the UN describes as the worst humanitarian crisis in the world. As Defence Minister, the Crown Prince has led that war. When the Prime Minister Theresa May invited him over, an ad hoc committee got together to organise a series of activities in opposition to the visit.
These included a parliamentary petition calling for the invitation to be withdrawn which attracted 11,863 signatures. Under parliamentary rules the government is required to respond if a petition is supported by 10,000 people. In response, the Foreign Office issued a statement claiming, among other things:
'Regular engagement is a vital part of our strong relationship with Saudi Arabia, which is important for mutual security and prosperity and includes meaningful discussion on reform and human rights';
'The longstanding partnership between Saudi Arabia and the UK has helped make both of our countries safer and more prosperous';
'The Crown Prince has embarked on a series of reforms to modernise society and the economy'; and
'Our starting point for engagement on human rights with all countries is based on what is practical, realistic and achievable…'
The ad hoc committee issued a repudiation. You can read both on the Stop the War website.
The success of the committee shows what can be achieved when peace organisations come together with progressive Arab organisations.
The committee included Campaign Against the Arms Trade, Global Justice, Peace Pledge Union, Stop the War and War on Want, as well Arab Organisation for Human Rights UK, the Bahrain Opposition Bloc, BIRD, Human Rights for Yemen, Iraqi Democrats, Sheba for Democracy and Human Rights, Stop the War. Its success in part lies in the collaboration between UK peace organisations and progressive groups from the region. Watch this space for news of further action.