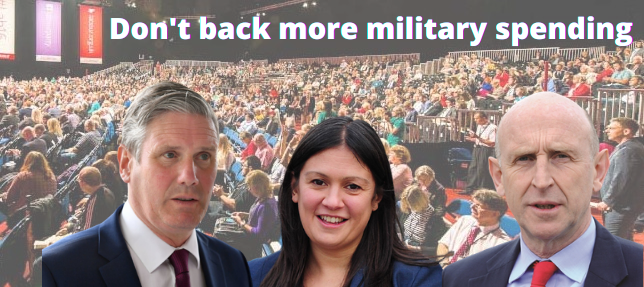 In November last year, Boris Johnson told parliament that the Ministry of Defence will get an extra £16.5 billion on their budget over the next 4 years. The government's military spending plans include a Space Command, an Artifical Intelligence Agency, and other big ticket projects.

The MoD's current budget is £41.5 billion, and the government has already promised a 0.5% above inflation increase for the next 4 years. This latest hike will mean a rise of between 10-15% a year in military spending for the rest of this parliament.

We think this is unacceptable. Labour's front bench got it wrong when Keir Starmer backed Boris Johnson. If you agree, please join our online lobby today. Tell Labour leader Keir Starmer, Shadow Defence Secretary John Healey, and Shadow Foreign Secretary Lisa Nandy what you think.

PS: thanks to everyone who responded to our call in December, and contacted your local Labour MP about this military spending spreee. Please follow through, and contact Labour's front bench.
Join Labour CND's online lobby here