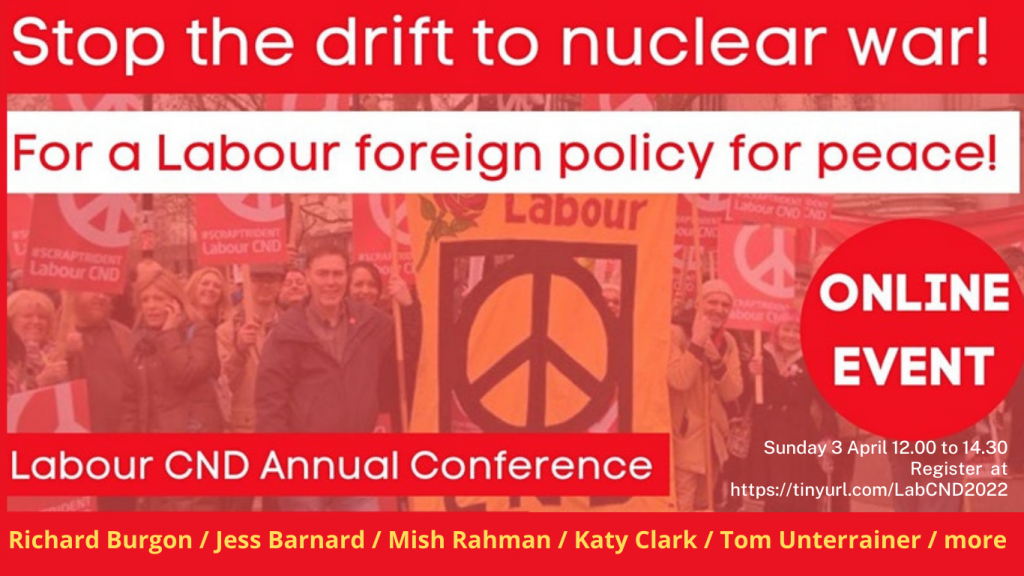 Register now for Labour CND's not-to-be-missed annual conference. We'll be debating the way forward for a Labour foreign policy based on peace, people and planet, with:
Richard Burgon MP // Tom Unterrainer CND Chair // Margaret Kimberly Black Alliance for Peace // Katy Clark MSP// Jess Barnard Young Labour // Stuart Parkinson Scientists for Global Responsibility // Mish Rahman NEC // Sam Mason Labour CND's climate specialist // with a musical interlude from Labour CND's own Sam Browse.
Events in Ukraine bring the prospect of nuclear war closer. The AUKUS pact with Australia and the US intensifies a new Cold War with China. The British government is pledged to increase its nuclear weapons stockpile. Energy price hikes have renewed dthe role of nuclear power in the UK's energy mix.
Now more than ever Labour needs a foreign policy based on peace and climate justice.