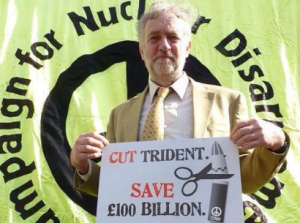 The Labour Party is currently in the process of deciding its next leader, with five candidates in the running at this stage. Only one, Jeremy Corbyn, is against the renewal of the UKs Trident nuclear weapons system which would not only keep the country on a Cold War footing but would also cost £100bn at a time of continuing austerity.
This is the first time that individuals can register as a supporter and vote on the next leader without being a member of the Labour Party. It will cost you £3 to become a Registered Supporter (or it is free if you are a member of a Trade Union or other organisation already affiliated to the Labour Party).
Jeremy has been an active supporter of CND for many years and Labour CND is working to ensure that he makes it to the final ballot. There is widespread support for disarmament across the Labour movement and it is vital that these views are represented in the leadership debate.
If you live in London you will also be able to vote for Labour's mayoral candidate ahead of the 2016 election. Labour CND is recommending that you support Diane Abbott, who has a long standing position against nuclear weapons.
You must sign up by 12th August to be eligible to vote in these contests. Details at http://www.labour.org.uk/w/labour-party-supporters