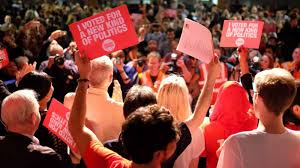 Labour CND is pleased to support the Centre Left Grassroots Alliance (CLGA) slate of candidates who are standing for election as CLP reps in the forthcoming NEC elections. All six candidates make clear their commitment to nuclear disarmament in a joint statement:

An ethical foreign policy – Labour should have an independent, internationalist foreign policy the core objectives of which should be peace, conflict-resolution, and nuclear disarmament. Rather than participating in illegal foreign wars, we should support people struggling against oppression across the globe.

Candidates are standing for a transformative Labour government, socialist policies and party democracy. The campaign statement, Campaigning for a Labour Victory also includes commitments to:

– defend people's lives and jobs as the priority in the coronavirus pandemic
– a socialist Labour government as the best vehicle for transforming society in the interests of the majority
– an economy for the many, rejecting the Tories austerity agenda
– a socialist green new deal, investing in renewable energy and sustainable infrastructure and building support for a rapid and just transition to a zero-carbon economy
– stand with the Black Lives Matter movement to achieve lasting structural change, and campaign against all forms of racism, discrimination and prejudice, and
– party democracy – to build an inclusive party which represents the interests of the majority in society.

This united left slate is supported by Momentum, Campaign for Labour Party Democracy, Labour Assembly Against Austerity, Labour Representation Committee, Campaign for Socialism Scotland, Wales Labour Grassroots…. and many more.