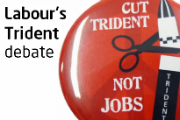 Labour CND statement on National Policy Forum 
Labour has promised big spending, not big reform on nuclear weapons, despite an overwhelming call to deliver on disarmament by Labour Party members.
Trident was forced onto the party agenda and a discussion took place at the weekend's National Policy Forum after almost 50 policy submissions by local branches.
As a result, policy has moved. But not enough.
The Labour Party will now review Trident in a post-election Strategic Defence and Security Review. This must take account of the huge cost of Trident replacement diverting resources from public services.
The Labour Party has also recommitted to international efforts for multilateral disarmament. This commitment should add support to existing proposals, particularly growing calls for a nuclear weapons convention, or ban on nuclear weapons.
But despite progress, policy has not moved enough.
The agreed text fails to reflect the clear mood of party activists who have sought concrete commitments to decommission Trident.
Labour Party members want big reform, not big spending on Trident.
Labour Party members want delivery on disarmament.
It is therefore regrettable that the National Policy Forum has not offered the wider membership a say on this goal. Delegates should call for that debate and vote at the Labour Party Conference.
Labour Party members who want to see a Labour Government deliver on disarmament must continue to organise and campaign for that goal both before and after the general election.
Join Labour CND in doing just that.
The policy agreed at the National Policy Forum on 20th July reads:
With other nations possessing nuclear weapons, and nuclear proliferation remaining a deep concern, we can never be absolutely certain as to what the future security landscape will look like. In July 2013, the current Government published its Trident Alternatives Review which examined alternative defence systems and postures for the UK's deterrent. Labour has said that we are committed to a minimum, credible independent nuclear deterrent, delivered through a Continuous At-Sea Deterrent. It would require a clear body of evidence for us to change this belief.
Labour recognises the importance of Britain leading international efforts for multilateral disarmament and non-proliferation. Following the action we took when in government, Labour would actively work to enhance momentum on global multilateral disarmament efforts and negotiations, looking at further reductions in global stockpiles and the number of weapons. This would be done in line with our assessment on the global security landscape.
Labour would continue to take a leading role internationally to push the agenda of global anti-proliferation with nuclear and non-nuclear states. This is a vision shared by President Barack Obama and Labour would work with the United States and other allies, such as France, to advance 'Global Zero', which seeks to advance an action plan for the elimination of all nuclear weapons. Labour recognises that success of past international bans on weapons of mass destruction such as landmines, cluster munition, chemical and biological weapons.
The NPT Conference 2015 will be a key moment for a Labour Government to show leadership in achieving progress on global disarmament.
Labour has said that the process and debate leading up to the next Strategic Defence and Security Review in 2015 needs to be open, inclusive and transparent, including examining all capabilities, including nuclear. It must also examine the cost implications as well as the strategic necessities, recognising the importance of the defence sector to the UK economy, and the need to protect and develop a highly skilled workforce. To this end, a Labour Government will have a continuing consultation, inviting submissions from all relevant stakeholders, including Labour Party members and affiliates, on the UK's future defence and national security issues.