This is the full statement published by Jeremy Corbyn on LabourList after the Nobel Peace Prize was awarded to the International Campaign to Abolish Nuclear Weapons, a coalition of hundreds of NGOs based in Geneva.
Congratulations to the In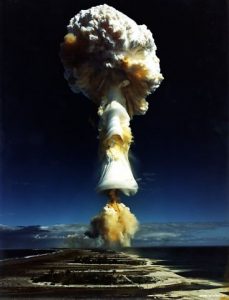 ternational Campaign to Abolish Nuclear Weapons (ICAN) on its well-deserved award of the Nobel Peace Prize.
I'm proud to have worked with ICAN for the goal of a nuclear free world for many years and the Nobel Committee's call for serious global nuclear disarmament talks demands an urgent response.
The need to avoid a nuclear apocalypse, killing millions upon millions of innocents and wrecking our planet. is becoming ever more pressing. Sadly, Theresa May and the Conservatives have tried to turn the issue into a party political game.
They are deeply irresponsible. Acting to prevent war, especially nuclear war, should be the starting point of any serious and sensible defence and foreign policy.
The tensions on the Korean Peninsula underline the urgency of the nuclear powers' obligation under the Nuclear Non-Proliferation Treaty to bring about nuclear disarmament.
We have to wind down the rhetoric now. As a member of the [United Nations] Security Council, Britain has an important responsibility and role to play. The next Labour government will ensure Britain takes a lead in strengthening global peace and security.
Reproduced from LabourList