Labour CND mourns the loss of Helen John, who died on the evening of Sunday 5 November 2018, aged 81. Many supporters will remember Helen's involvement in Labour CND and her appearances on our platforms and in other party arenas, speaking and lobbying at annual conference and elsewhere.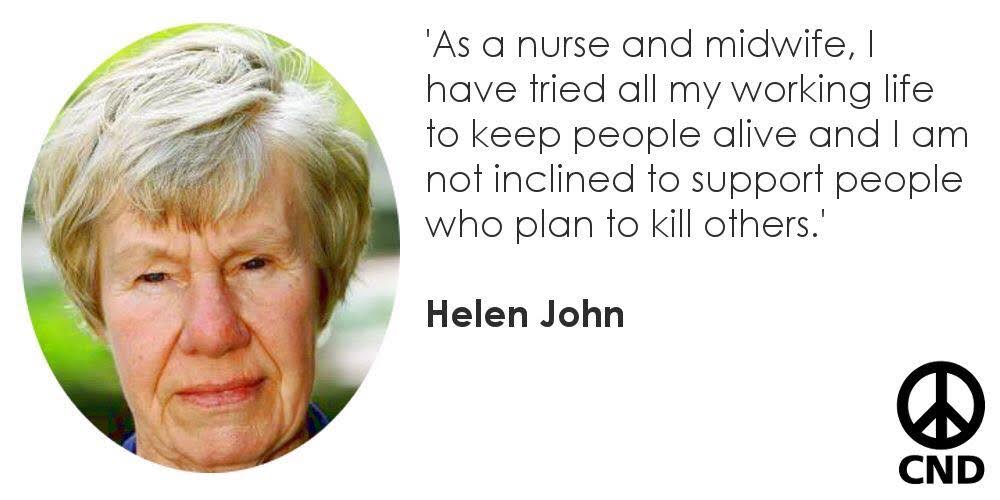 Helen was an exceptional figure, inspiring new generations of young peace campaigners for over 20 years. She is best known as a co-founder of the Greenham Common Women's Peace Camp in the early 1980s where she lived for many years, a symbol of opposition to United States cruise missiles in Britain.
She became a dedicated direct actionist, challenging militarism and asserting her right to protest for the next 25 years, until ill health brought an end to her activities. Helen was also a fervent feminist and champion of women's equality, who had worked as a district nurse and a midwife.
Her political journey began in Wales, where she was then living, when she joined a handful of mainly women marchers on a100-mile trek from Cardiff, the location of a factory that produced nuclear warhead components, to the Greenham Common airbase near Newbury. A few of the women decided to stay, and set up what later became the women's peace camp.
Helen visited Labour Party conference to raise support for their action. They were warmly welcomed by Labour CND and other nuclear disarmers. And Helen later recalled meeting Walter Wolfgang, now Labour CND chair:
'Walter was the very first person there to support us. I'd never met him before. He was beaming all over his face as he put £20 in my collecting tin.'
Helen activism continued after she left Greenham. In the 1990s she set up camp outside Menwith Hill, a US spy base in the heart of the West Yorkshire countryside. Her final campaign, before ill health put an end to direct action, was directed at RAF Waddington in Lincoln, the main operating base for UK drones.
Helen John was an indefatigable campaigner, internationally as well as in Britain. She is still known and widely remembered in North American and European peace movement circles. Amongst many other activities, she was prominent in the Global Network against Nuclear Power and Weapons in Space.
Her extensive and diverse experiences of the peace movement were deployed for CND, where she served first as a National Councillor and then as a Vice-Chair of CND in 2001-4. She was present, on behalf of CND, at the founding meeting of the Stop the War Coalition in October 2001.
Helen John will be remembered and missed by thousands of activists whose lives she touched.