CND members old and new gathered at Aldermaston on Easter Sunday commemorating the Campaign's 60th birthday by remembering our roots in the Easter marches to the UK Atomic Weapons Establishment. Labour CND members were among the hundreds who gathered there on Easter Sunday 2018.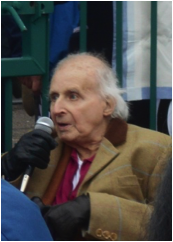 Labour CND Chair Walter Wolfgang, a veteran organiser of the fist Easter march addressed supporters assembled from across the country: 'Civilisation has not kept up with technological progress. Aldermaston remains a place of barbarism.' He talked about a current political establishment that has become frightened and is hitting out against anyone who wants to abolish nuclear weapons, but that in Jeremy Corbyn we now have the best possible Labour leader anywhere. "We now need to succeed wholly, not just half-way."
Carol Turner asked those assembled to remember Helen John, a founder of the Greenham Common Women's Peace Camp who died on 5 November last year, aged 80. 'Helen would have been delighted,' said Turner, 'to know she went out with a bang on bonfire night'.