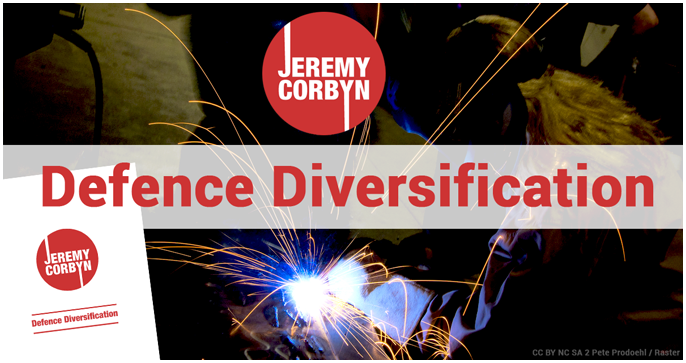 The defence industry is increasingly automated, and skilled employment is in long-term decline. No surprise then to learn trade union attitudes to defence diversification are finally shifting.
In his 2015 leadership campaign Jeremy Corbyn 'set out a clear commitment to establishing a Defence Diversification Agency' (DDA) so that 'engineering and scientific skills are transferred into more socially productive industries' should a decision be taken to decommission the Trident nuclear weapons system.
Two years later, at its 2017 Congress, the TUC backed a DDA. Motion 17 recalled the ground-breaking plan for socially useful work pioneered by the Lucas Aerospace workers in 1976, and agreed to 'lobby the Labour Party to establish before the next general election a 'shadow' Defence Diversification Agency, to work closely with the Shadow Department for Industry in developing an overall national industrial strategy including the possibility of conversion of 'defence' capacity'.
In July 2018, Unite took a step forward when the 2018 policy conference backed Executive Statement 1 which welcomed the 'renewed focus Jeremy Corbyn has placed on defence diversification, in the context of the priority he rightly places on world disarmament'. Whilst reiterating the union's first priority remains the protection of members jobs, the statement calls for 'a serious government approach to defence diversification' and 'urges the Labour Party to give the highest priority to this on taking office'.