When we heard Westminster Abbey was planning a 'Service of Thanksgiving' to mark 50 years of Trident, it was hard to believe. But yes, Defence Secretary Gavin Williamson thought we should give thanks for Britain's nuclear weapons system.
It was such a bizarre idea that there was considerable mediacoverage. Over 200 Anglian clerics wrote a letter of protest, asking for the service to be cancelled.
On 1 May, just two days before his big chance to schmooze with Prince William, Williamson was sacked for a security breach. The 'Thanksgiving' went ahead with his replacement Penny Mordaunt in the lead.
Led by Christian CND, hundreds gathered across the road from Westminster Abbey. While the service was held inside the Abbey, there was a die-in on the pavement outside, in memory of the victims of Hiroshima and Nagasaki.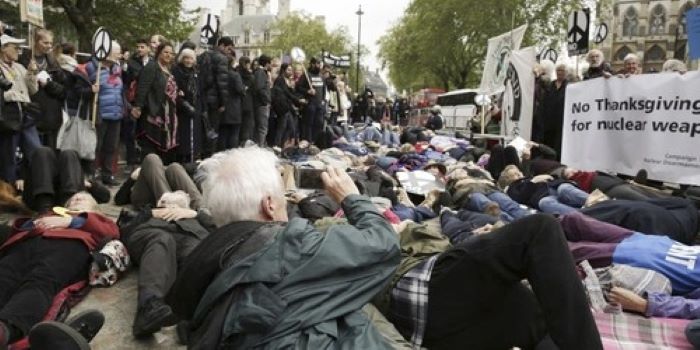 When the service finished, the congregation streamed out and across the road for a reception, while the Abbey bells pealed joyously. For a full half hour, royals, military top brass, parliamentarians and a smattering of the establishment filed by the protest.
BBC news that evening reported Prince William was booed and heckled. In fact, some protesters shouted 'Stop Trident'. He needed to hear that not everyone was celebrating.