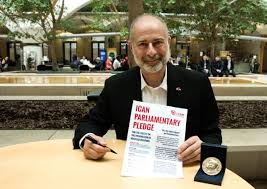 Labour CND is delighted to see that the Front Bench post of Shadow Minister for Peace and Disarmament is to be retained under the new leadership, and will continue to be ably filled by Fabian Hamilton MP. Fabian will be working with colleagues in the Shadow Foreign and Commonwealth Office team, including Catherine West, another committed nuclear disarmamer and Vice President of London Region CND. Congratulations both.
Labour's Foreign and Commonwealth Office team, led by Foreign Secretary Lisa Nandy, comprises Wayne David (Ministter for Middle East and North Africa) Stephen Doughty (Africa, jointly with DFID) Stephen Kinnock (Asia and Pacific) Catherine West (Europe & Americas) and Fabian Hamilton (Peace and Disarmament). It is not yet known if Fabian's post has the same brief before, which also ranges across policy areas within the defence team.
Thanks to everyone who participated in Labour CND's online lobby in support of the Minister of Peace post.
Details of Labour's new front bench here