The Labour CND fringe meeting at the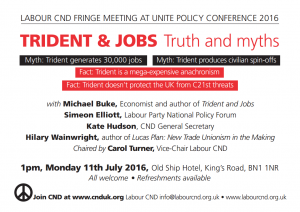 Unite Policy Conference was a big success, with a packed room hearing from a number of speakers setting out why Unite should adopt a position opposing Trident replacement and engage in efforts on defence diversification.
The meeting heard from economist Michael Burke, CND General Secretary Kate Hudson, Labour Party activist Simeon Elliott and Hilary Wainwright, who has written a book about the Lucas Plan. The clear message from the panel and delegates in attendance was that Unite must take the issue of diversification seriously in order to protect long-term high-skilled manufacturing jobs for the future.
Michael Burke called for the money currently allocated to Trident to be used to springboard a comprehensive industrial policy for the UK. He also spoke about the proposals in the CND? Jobs not Trident report.
Kate Hudson welcomed Jeremy Corbyn's commitment to establish a Defence Diversification Agency and called on all trade unions, including Unite, to play a full role.
Hilary Wainwright drew on the lessons from the Lucas Plan which could be applied to the current debate around Trident while Simeon Elliott talked about the policy debate underway in the Labour Party and the need for Unite to support a move away from supporting Trident.