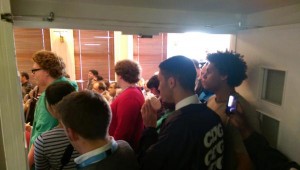 The CND, Labour CND and Labour Action for Peace fringe meeting is a firm fixture at the Labour Party Conference. This year, following delegates deciding not to put Trident on the conference agenda, the meeting was given an extra sense of urgency.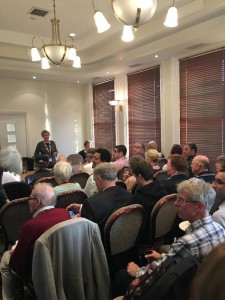 The meeting, which took place at the Mercure Hotel in Brighton was full long before the first speaker addressed the crowd. Delegates and party members were joined by members of the press to hear Kate Osamor MP, Julie Ward MEP, Chris Williamson (MP for Derby North 2010-2015) and Jo Rust and Simeon Elliott (both National Policy Forum). The meeting was Chaired by Kate Hudson, General Secretary of CND. There were also a host of jounralists in attendance, including several political editors and film crews from the UK and Germany. Kate Hudson started the meeting by reading out a statement from Jeremy Corbyn, who was due to speak at the meeting but was unable to attend due to his commitments as leader. The statement reaffirmed Jeremy's position on Trident and he pledged to do his "persuasive best" to change Labour policy, for which he has a massive mandate.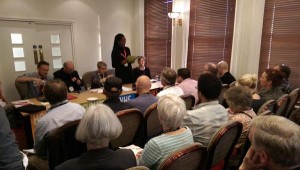 Kate Osamor, recently elected in Edmonton, told the meeting that opposition to Trident had been a key part of Jeremy Corbyn's platform in the Labour leadership election, and she was commited to doing everything she could to oppose spending £100 billion on a new generation of nuclear weapons.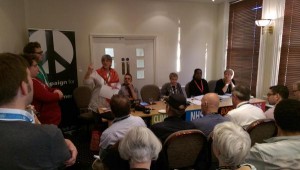 Julie Ward MEP, representing the North West of England, spoke about the work she is involved in at the European level, but also locally. Her constituency includes both Barrow, where work on the replacement submarines will take place, and Manchester, one of the UKs many nuclear-free local authorities.
Chris Williamson spoke about the need for Labour to have a coherent, consistent policy on Trident, and his conviction that changing position would be electorally beneficial. Chris also spoke about the need for defence diversification, as set out by Jeremy Corbyn in his election campaign.
Jo Rust and Simeon Elliott, both recently elected to the National Policy Forum, both spoke about the need to engage members in the policy making.
After the opening remarks from the panel there were a range of questions from the floor including on the morality of nuclear weapons, the so-called deterrent effect and ideas for what else the money would be better spent on.