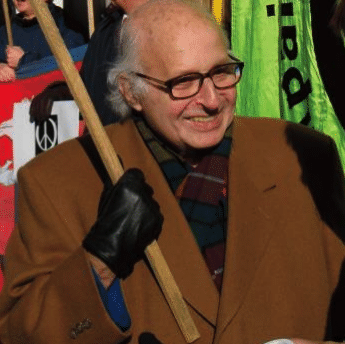 who died peacefully in Kingston Hospital in the early hours of Wednesday morning, 29 May, was born in Frankfurt-am-Main, Germany, the only child of Erna Karoline (née Simon) and Hermann Wolfgang. Walter came to Britain as a teenager in 1937. He became a British citizen in 1948 and made his home here, joining the Labour Party the same year and remaining an active member till his death – standing as a parliamentary candidate in the 1959 election and serving on Labour's National Executive Committee, 2006-8. An organiser of the first Aldermaston march, Walter was a CND and Labour CND stalwart throughout his life, and a Vice President of both and of Stop the War Coalition at the time of his death.
His burial takes place:
THURSDAY 6 JUNE, 2pm
The Liberal Jewish Cemetery
Pound Lane, Willesden, NW10 2HG
RESTING PEACEFULLY IN THE KNOWLEDGE THAT HE ALWAYS SPOKE TRUTH TO POWER
TRAVEL TO THE CEMETERY
The cemetery is situated off the south-west end of Pound Lane, Willesden, London, NW10 2HG. At the south-east end of Pound Lane is a fire station, next to the fire station is a block of flats and by the side of the flats is a small road that leads to the cemetery.

Bus: Routes 6 and 226 stop outside the fire station. Bus numbers 52 and 98 stop in Willesden High Road, at the corner of Hawthorn Road; walk down Hawthorn Road to the cemetery (about five minutes). Underground: The nearest stations are Dollis Hill or Willesden Green, both of which are 10- 15 minutes walk from the cemetery. There is a taxi service available from Willesden Green Station.
TRIBUTES
There is no tradition of flowers at a Jewish funeral and there will be one wreath only at Walter's, from Carol Turner and Marjorie Thompson, his de facto family for the last decades of his life. You can pay tribute to his life if you wish by donating to one of two causes close to his heart.

Labour CND
Please reference your donation Walter
By electronic transfer to Labour CND
Sort Code 08-90-29, Account No 50459106
By cheque to Labour CND Treasurer, 162 Holloway Road, London N7 8DQ
Israeli Committee Against House Demolitions (ICAHD)
Please reference your donation W Wolfgang
By electronic transfer to ICAHD UK
Sort Code 08-92-99, Account No 65132227
By cheque to ICAHD UK, BM ICAHD UK, London WC1N 3XX