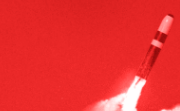 It's official. With CLP submissions to Labour's National Policy Forum consultation now in, Trident has emerged as a key issue.
It dominates the submissions to Britain's Global Role paper.
Almost a third of all amendments submitted to the Britain's Global Role paper, which covers all aspects of international policy, were on Trident.
Almost 50 CLPs (listed below) have submitted an amendment on Trident and 90% of them want to see it scrapped.
These numbers demonstrate that nuclear weapons – and a £100bn post-election decision on it being replaced – is a priority issue for Labour members.
Approximately 90% amendments simply want to see the system scrapped, while the rest urge Trident to be reconsidered in a post-election defence review and seek further commitments on disarmament.
Submissions came from around the country. The largest number came from London (10), South East (7) and Yorkshire (6) while East of England, Scotland, South West and Wales all saw 5 amendments submitted.
With submissions overwhelmingly in favour of decommissioning Trident and carrying out the UK's historic nuclear disarmament commitment, it is time Labour delivered.
It is vital that CLP representatives on the NPF submit this issue and represent members by voting for decommissioning Trident and delivering disarmament.
The National Policy Forum will meet on 18-20th July in Milton Keynes.
CLPs submitting amendments on Trident
East of England
Bedford
Harlow
Luton North
Luton South
North East Bedfordshire
East Midlands
London
Chingford and Woodford Green
Croydon Central
Finchley and Golders Green
Holborn and St Pancras
Islington North
Islington South and Finsbury
Leyton and Wanstead
Richmond Park
Uxbridge and South Ruislip
West Ham
North
Lancaster and Fleetwood
Westmorland and Lonsdale
North West
Scotland
Cunninghame South
Cunninghame North
Dundee City West
Glasgow Kelvin
Glasgow Maryhill and Springburn
South East
Banbury
Buckingham
Horsham
Isle of Wight
Lewes
Reigate
Tunbridge Wells
South West
Bristol West
North Somerset
North East Somerset
South Swindon
South West Wiltshire
Wales
Cardiff West
Ceredigion
Gower
Preseli Pembrokeshire
Swansea West
West Midlands
Yorkshire and Humber
East Yorkshire
Harrogate and Knaresborough
Leeds North West
Leeds West
Beverley and Holderness
Skipton and Ripon