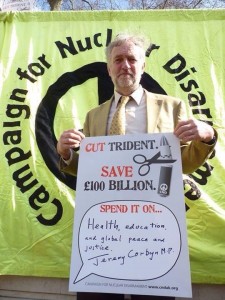 During the nomination period for the Labour leadership election Labour CND wrote the following letter to Labour MPs urging them to nominate Jeremy Corbyn. We are delighted that the anti-Trident voice will now be heard in the leadership debates over the summer.
You can get involved in Jeremy's campaign via his website, facebook and twitter accounts.
---
Hello,
As nominations for our party's next leader are now open we urge you to nominate Labour CND Chair Jeremy Corbyn.
As Trident replacement could be the defining issue for MPs in the current Parliament, we are writing to ask that you consider nominating Jeremy to go forward to the ballot of party members.
We believe that MPs have a duty to Party members to ensure that the widest possible debate can take place in the coming months, rather than nominating the candidate they personally support.
The renewal of the UKs Trident nuclear weapon system is estimated to cost £100 billion, at a time of continuing austerity this cannot be allowed to go unchallenged. Trident is a Cold War weapon and renewal would prevent the UK from moving on from Cold War security concerns. 
There is widespread support in the Labour Party for action on disarmament. Opposition to Trident dominated submissions from CLPs to the 2014 Summer National Policy Forum, which resulted in a manifesto commitment that a Labour Government would include Trident renewal in the Strategic Defence and Security Review. In a survey of election candidates 75% of Labour respondents supported the call for disarmament and said so publicly, including many successfully backed by the electorate.
There is no doubt that the Labour Party must have a wide-ranging debate in the coming months following the General Election defeat. Without Jeremy Corbyn taking part the voices of many Labour members will not be heard. I/we hope you will consider facilitating this debate by nominating Jeremy this week.
Yours sincerely,
Joy Hurcombe and Walter Wolfgang
Vice-Chairs, Labour CND