Jeremy Corbyn welcomed newly elected members Rachel Garnham, a former member of Labour CND executive committee, Yasmine Dar, and Jon Lansman to their first National Executive Committee meeting on 23 January, highlighting that the NEC had a female majority. A list of all NEC members is available here.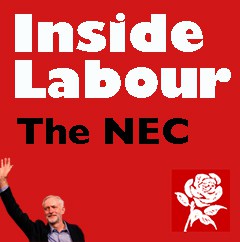 All members of the NEC are members of the National Policy Forum which oversees the development of party policy and forms the basis of Labour's general election manifesto. The NEC is also responsible for party rules and candidate selection processes.
Items of interest to Labour CND supporters at the January NEC include those listed below. The report is based on Ann Black's NEC report; additions and comments by Labour CND are indicated in red.
Proposals for reviewing criteria for contemporary motions and more options within policy documents should surely be included in the party democracy review, and discussed at the national policy forum on 17-18 February. The Forum will also agree short consultation documents on priority topics handed down by the joint policy committee. Ann Black asked for the timetable to be sent to CLP secretaries and members.
Katy Clark, who is conducting Corbyn's democracy review, gave an update on the first tranche of the review [which looked at participation and inclusion issues]. Policy formation is included in the third and final tranche, and Labour CND encourages supporters to make submissions.
The NEC agreed that for 2018, as already advertised, women's conference will be held on Saturday 22 September. Constituencies and affiliates will be able to submit motions, not just statements, and as well as voting on those prioritised, delegates will choose one to go forward to the annual conference agenda. For this year only, because of constraints on time and space, delegates will be on the same basis as 2017, with each CLP entitled to one delegate elected by their women members, and affiliates represented on the basis of their membership, though it is unclear if this is total membership or women's membership. As previously the conference will be open to all women members as visitors.
However the NEC agreed to support standalone women's conferences in spring 2019 and 2010, and as the newly re-elected vice-chair for women Ann Black is asking all NEC women members to scope out all aspects – basis of delegations, motions, interaction with annual conference – and take this through the equalities committee. The Women's Conference Arrangements Committee will take the lead in setting the programme. In addition a national party democracy event for women will be held in late June or early July, with all CLPs invited to send representatives.
Labour women have been a strong source of support for nuclear disarmament policies in the past and are likely to be so again. Labour CND supporters are encouraged to submit resolutions to future women's conferences and to support delegates willing to take these issues up on conference floor.
Rachel Garnham, Yasmine Dar and Jon Lansman will all be on the equalities committee.
Ann Black circulates regular NEC reports. To sign up email her at annblack50@btinternet.com. She also welcomes comments and questions to her reports., email or call on 07956-637958. Past NEC reports are available at www.annblack.co.uk